The 5th Digital PARP, ATR & DDR Inhibitors Summit is the one-of-a-kind industry-focused summit dedicated to bringing new and novel next-generation DDR therapeutics to the clinic and finding optimal treatment combinations to expand application in multiple cancer indications.
This is the key biopharma conference for any research team developing inhibitors of specific DDR targets, in either monotherapy or in combination, to treat predictable, identifiable, DDR-defective cancer indications.
If you are a research team striving to create best-in-class DDR therapeutics, this is the specific networking forum that has been curated with you in mind.
Delve into the progress in PARP, ATR & Wee1 including biomarker understanding with AstraZeneca, Bayer, Repare, Merck KGaA, Atrin Pharma, IMPACT Therapeutics, Onxeo, FoRx & Zentalis
Optimize pre-clinical development through models, novel methodologies & imaging technologies to revolutionize translation with NCI, XPose Therapeutics, Dana-Farber Cancer Institute & Harvard
Uncover the therapeutic potential & progress in targeting Polθ, WRN, CHK1, DNA-PK, USP1, PARG, PKMYT1 with Artios Pharma, Harvard, NERx Bio, KSQ Therapeutics, IDEAYA & Repare Therapeutics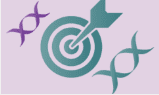 Discover the clinical updates on combination, dosing, scheduling & future directions for this exploding field with Newcastle University, MD Anderson, National Brain Tumor Society, Yale, Breakpoint Therapeutics & Harvard
Network with your peers, ask your burning questions, build connections, and fully immerse yourself in the world of DDR therapeutics.